2020 Faces of Philanthropy: Homestead + Woods Services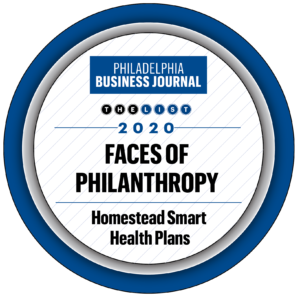 Woods Services and Homestead Smart Health Plans have been recognized by the Philadelphia Business Journal with the 2020 Faces of Philanthropy Award!
Their partnership created an employee benefits plan with no employee payroll deductions, and no co-pays for most services and low-cost prescriptions. The Langhorne-based health management and advocacy organization saved over $1 million that's funding an employee engagement strategy focused on professional development and economic advancement. During the first 18 months, retention rates included 82% among employees participating in any higher education opportunity, 92% among onsite academic cohort participants and 98% of staff trained in trauma-informed care. Employees received more than $500,000 in education discounts and grants. Woods is extending the program to its five affiliate agencies.
Get in touch
It's our privilege to answer any questions that you might have about our services. Thank you for contacting Homestead Smart Health Plans.